Possession from "1981" (Not "The Possession" 2012) is one of the wildest things I've ever seen.
The film stars a young Sam Neill and a beautiful Isabelle Adjani. After watching this an John Carpenter's "Mouth of Madness"
(Seen here "Mouth of Madness") and I'm convinced that Sam Neill's best performances are the ones where he unhinges himself and radiates either madness or a sense of mad passion.
It is very difficult to describe this plot other than it's basically about a man who's slowly losing his mind because he feels his wife (Isabelle Adjani) is cheating on him. Basically but the film tapers and not even slowly, the first act is like a deep breath, and the 2nd and 3rd are like the plunges deeper into madness.
Basically halfway through the film you start to realize that Isabelle's character is probably not having a real affair with the man Sam's Character thinks she is.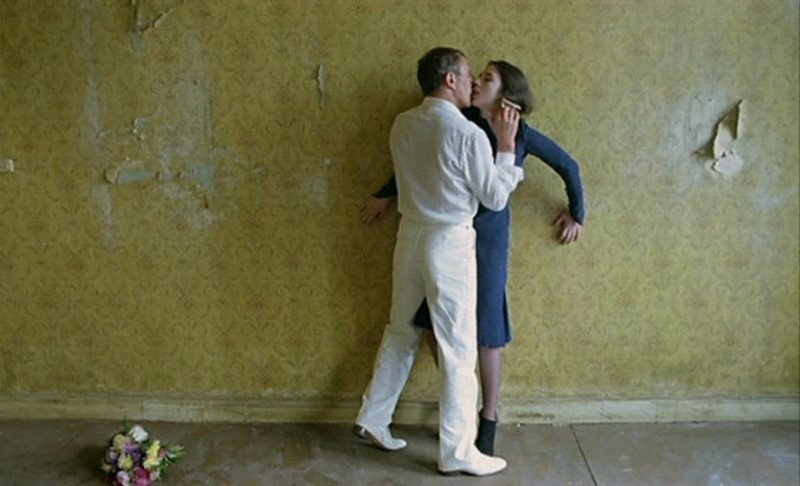 but with a monster.
Basically that's it. (There is a twist that I almost predicted but it's so out of left field and is part of a trope that's so unused and strange that it just tickled the back of my ideas while watching the film. But it comes from something that's a part of me that I understand, so if you know me really well, you'll understand but I won't spoil the twist cause it's just too strange.)
This film contains a type of dream or nightmare logic, like I described in my "Kill List" review, but with its strange ambiguity, I feel it rather unintended by the director just accidental. Because films like "Kill List', "The Shining", and even "Rosemary's Baby" while not being about dreams specifically or hallucinations like films like "Altered States" but it's a film that has a loose dream-like logic. However almost all the films described (other than "Altered States") have a rather even slow pacing to slowly rope you into it's own strangeness. "Possession" from performance, to camera, to editing after about 40mins in is easily one of the if not the most manic film I've ever seen. It's bat-shit crazy. Complete with wild explosions a crazy motorcycle chase and an amazingly passionate shootout in an apartment...the likes of which you wouldn't expect from a film about a love affair.
Some of the dialog in the film is so out there and vaguely philosophical but not tapered down to a regular logic, to come across as rather schizophrenic like a man on the side of the road reading philosophy and begging for change.
I cannot really recommend it. This film plays as if a foreign director saw the 'Frank' storyline in Hellraiser and 1/2 of "Jacob's Ladder" while reading a bunch of philosophy, doing uppers, and decided to change the last act into a twilight zone episode and a completely wild unkept action sequence. I FU*@(&*@(*&CKING LOVE IT!!! But it makes no sense. So I can't really recommend it.
But if you enjoy films that are really out their, that truly try to touch the void of madness. It is highly recomended. I was so curious about this film I bought a Korean copy of the DVD from Amazon (because the film is out of print I can't find a real good DVD copy and forget about Blu-Ray)
So if you like crazy cult films and hidden gems. Check it out. (The score is great and spooky too)